XXL BROWN PADDED GENUINE LEATHER DOG COLLAR- 35"
ThIs unbelievable heavy duty Collar is 34" long (Tip to Tip) and over 2" wide with soft white padded leather on the bottom. Perfect for any dog with a neck size between 26.5" - 31". You will not find this exclusive color and design anywhere. Designed and manufactured by Angel Pet Supplies, this wonderful piece is made with 100% genuine leather and 100% vegetable dye. Yes, even the brown shade is constructed of genuine leather. Angel pet products are all hand made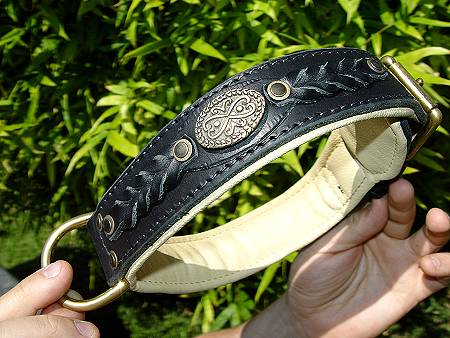 This collar will fit dogs with neck size 18 inch and up to 35 inch (45 cm - 89 cm) Need a different size?
Please contact us This Collar Is Extra Wide - Almost 1 3/4 Inch and made of highest quality leather - Which Makes It Perfect Tool For Handling Large And Active Breeds This Leather Collar Is Made With Attractive Braids ! That Help Bring Out The Beauty Of This Hand Crafted Creation.
Would like to know more and also get special deals and discount?
Subscribe to our newsletter and get best info and best prices around
---