PLEASE CHOOSE CATEGORY BELOW
Customer Reviews:
---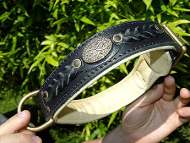 Royal Nappa Padded Hand Made Leather Dog Collar
Rating:

[5 of 5 Stars]
We got this collar and a new tag for our English Mastiff - Harlequin for Christmas! Love the collar, Love the fit! Well worth the money.
Marti Bass from Tennessee, USA
---
Extra Large Designer Dog Harness for Mastiff
Rating:

[5 of 5 Stars]
We received this a couple days ago for our Neo. Very surprised on how well it's made and how well it fit. We have been looking for something like this for years. Our Neo is very protective of my wife when I'm at work. She would try to walk him at the park, but if a male wereto run by, he would almost pull her down. If I'm with her, he doesn't do a thing. She has been able to walk him and control him so much better and he seems to like it also. Seems to give him more confidence. Thank you for making these kind of products for such a beautiful powerful breeds. Absolutely made with the best quality in mind.
Clinton Drake from Ohio, USA
Special Offers !

© 2017 All-About-Mastiff-Dog-Breed-Store. All rights reserved
Since 2002 All-About-Mastiff-Dog-Breed.com has provided dog training equipment for thousands of professionals around the world.
Our product line of dog training equipment , dog supplies, and handlers items is the highest quality and affordable.
The products on this site have been tested and approved.
Each item provides optimal performance.
If this is your first time ordering from all-about-mastiff-dog-breed.com order with confidence.
Our products are guaranteed... we are happy to exchange items until we find the right fit.
We look forward to adding you to the long list of satisfied customers.
Satisfaction and quality are more than simple words... at all-about-mastiff-dog-breed.com it is our guarantee.
If you are at all unsatisfied, please
Contact Us