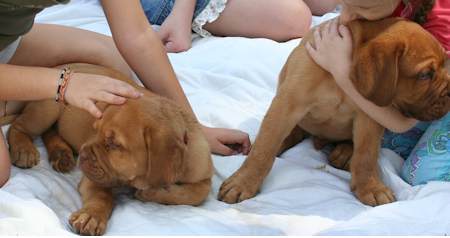 By reading this you have started searching the right way . There is lots of information on the internet.
When buying a mastiff you will have to decide if you want a dog with a history of less health problems in the blood line or a dog from unknown health back ground.
In order to buy a pups with know family health history you must buy from a reputable breeder who knows their lines well, and not a back yard or inexperianced breeder.
If you buy a mastiff pup from a person who is not a known breeder, someone who has been not been breeding mastiffs for several years and dose not know the grandparents and great grandparents of the pup you are buying , you are risking health problems in you pup. Health problem that the breeder may not even know exist in the lines,
A breeder who can talk to you about all the ancestors in the pups pedigree is more apt to be aware of any health issues in the line and is more capable of avoiding genetic health problems .
I personally would not buy a pup from a breeder who has not done testing for hip and elbow dysplacia on the parents.
You should ask the breeder if they have a health guarantee on the pup "a written contract".
Will the pup have its first vaccinations . Will the pup have a vet certified of health before you buy it. Will the pup be wormed .